11/24/10
Filed under:
Products
Posted by:
@ 12:46 pm
We've recently published some new pages for organza sheer gift bags. Click the following link to visit:
http://www.gzintlinc.com/organza_gift_bags/index.html
In the year 2005, we started offering 17″x17″ organza sheer gift bags as a favor to customers who ordered I Frogee diaper bags and baby blankets. Customers loved it and some of them asked for extras to be used with their other items.
In the coming shipment, we'll have two more sizes available: 8″x12″ and 5 1/2″x8″. The large and medium sizes come in 10 colors: red, orange, yellow, green, sky blue, diamond blue, purple, black, white, pink. The small size one only in red color.
Here are the pictures: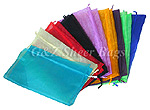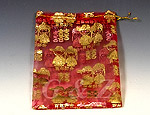 The wedding favor pouch is best for wedding/party treat for guests. Gold Double-Happiness, Chinese wedding couple and Chinese characters 'Live Happily For 100 Years'(Bai Nian Hao He 百年好合)
You may pre-order them before the shipment arrived at our warehouse. Click the shopping cart to visit our web store

.
Leave a Reply