01/05/09
Filed under:
General
Posted by:
@ 6:19 am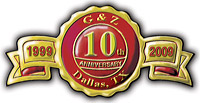 This January is our 10th anniversary in business.
We are offering a 10% discount coupon* for all customers during the whole month. You may use the coupon as many times as you wish till Jan. 31st. (*Cannot combine with other offers)
Coupon code: gz10th2009
Enter the above code when you checkout.
Customers who place the orders at our WholesaleCentral store will also enjoy this special offer.
Thank you for your business!
G&Z International, Inc.
Enter Stores:
https://id34140.securedata.net/gzintlinc.com/merchantmanager/index.php (U.S. domestic orders)
http://www.wholesalecentral.com/gandzinternational/Store.cfm (International orders)