04/02/12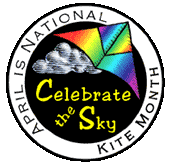 NATIONAL KITE MONTH IS HERE! March 31st through May 6th!
Visit NKM official site: NATIONAL KITE MONTH®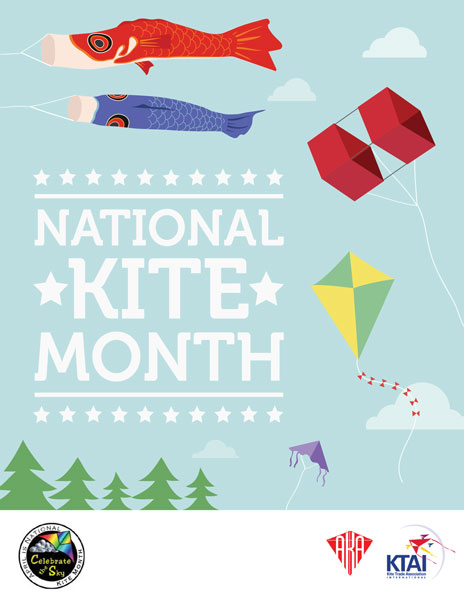 National Kite Month, April Kite Month, Kites For Spring, KTAI, AKA
04/01/11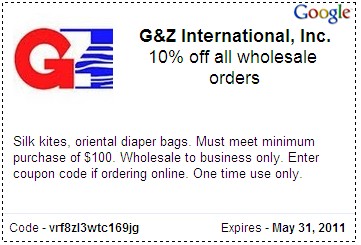 4/1/11- 5/31/11 Google Place Promo Discount 10% off all wholesale orders. Must meet minimum purchase of $100. Wholesale to business only. Enter coupon code to order online. Coupon code: vrf8zl3wtc169jg
View our special offers page here
02/27/11
Back in 1999 when we did our first import from China, we had chosen only about 3 designs of Chinese kites which included eagle, butterfly and goldfish to test the U.S. market. Ever since then, we had kept less than 15 designs and very limited quantities in our warehouse for almost a decade. The kite category sales was just a very small portion of our annual total sales.
Started late 2007 and early 2008, the U.S. and global economy has been in a deep recession. All business have felt the the economic pain. G&Z has experienced the same as all others and decided to take aggressive actions to survive. We found the break-ice point which is the very traditional Chinese kites. With two years effort, we now have over 250 designs/colors of kites available in silk, nylon and paper. Apart from the classic kites, we have introduced the easy-flying kites for kids, as we described as Educational Kites (kid's coloring kites or DIY kites). Bearing in mind that 'There is a will, there is a way', we do gain some success.
In order to let more people know about Chinese kites, we joined AKA (American Kitefliers Association) and KTAI (Kite Trade Association International) and are listed as one of the merchant members. Just as KTAI stated on their website: Associations Make A Difference!

American Kitefliers Association, the world's largest kite organization with over 3,000 members, in 25 countries. Join AKA and get a 10% member discount to order kites from us.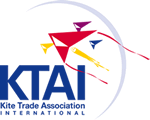 The membership businesses consist of wholesalers, retailers and other interested parties from around the world. The Kite Trade Association International exists to support and promote the manufacturing, distributing and retailing of kites and wind related products.
Chinese kites wholesale
AKA, KTAI
02/01/11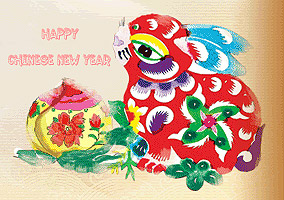 We have gone through the year of the Tiger and tomorrow is the Chinese New Year Eve. The coming year is a Rabbit Year starting from Feb. 3rd. Let's wish all of us be happy and healthy all year round.
01/05/09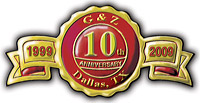 This January is our 10th anniversary in business.
We are offering a 10% discount coupon* for all customers during the whole month. You may use the coupon as many times as you wish till Jan. 31st. (*Cannot combine with other offers)
Coupon code: gz10th2009
Enter the above code when you checkout.
Customers who place the orders at our WholesaleCentral store will also enjoy this special offer.
Thank you for your business!
G&Z International, Inc.
Enter Stores:
https://id34140.securedata.net/gzintlinc.com/merchantmanager/index.php (U.S. domestic orders)
http://www.wholesalecentral.com/gandzinternational/Store.cfm (International orders)
12/23/08
Merry X'mas & Happy New Year
January 2009 is our 10th anniversary in business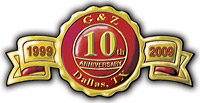 We are the manufacturers, importers and wholesalers of oriental gifts, baby products, apparel & accessories and home decoration items.
Both retailers and wholesalers are welcome.
We have imported a variety of gift items and are now focusing on ORIENTAL GIFTS, BABY PRODUCTS (diaper bags, baby blankets, baby bibs, baby pillows, baby tents, squeaky shoes), APPAREL & ACCESSORIES.
Post your comments or write directly to us at sales@gzintlinc.com
Happy Holidays!
G&Z International, Inc.
12/15/07
Welcome to our new blog! Let's start blogging!